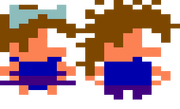 Marina is a playable character in
Giana Family
. She's only playable in the last version of the game.
Appearance
Edit
Similar to Giana (classic) sprite from The Great Giana Sisters. She has brown hair, cyan node, beige skin, blue shirt, purple skirt and white shoes.
Meaning of the name
Edit
"Marina" mean "from the sea" in Latin. A specially designed harbour with moorings for pleasure yachts and small boats. That explain why Marina's cloths are blue.